The Shortage of Psychiatrists in the US
High Demand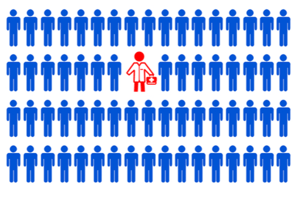 For decades, the United States has seen a critical and ongoing shortage of psychiatrists. Between 2010 and 2014, posted positions for psychiatrists increased by over 97 percent (New American Economy, 2017). However, the demand for psychiatrists remains much greater than the existing supply. While 60 percent of total counties in the US are left without psychiatrists, this lack of providers is even more prominent in more remote areas. Around 80 percent of rural counties lack even a single psychiatrist to provide services. Further, the rate of population growth far exceeds growth in the labor market, so the unbalanced demand and short supply is likely to continue indefinitely. Research has found that the shortage of psychiatrists correlates with over 4.2 million workdays that are either completely lost or less productive due to employees' poor mental health (New American Economy, 2017).
A study of the projected shortage of psychiatrists estimated that by 2024, the US will have a deficit of between 14,280 and 31,091 psychiatrists. This study reported that the shortage is expected to decrease somewhat through 2050, with the expected range including, on the low end, a shortage of 17,705 psychiatrists, to a surplus of 3482 (Satiani et al., 2018). However, a number of unpredictable factors could impact these projected figures, including whether population growth follows expected trends and an increased workforce related to immigration.
Notably, lower-income individuals are more adversely impacted by the brunt of the shortage, due to its concentration in the public sector and Medicaid-funded programs (Levin, 2017). An aging workforce, low reimbursement, burnout, requirements around documentation, and difficulty coordinating care due to restrictions around sharing clinical information are all factors related to the shortage. Psychiatry uses a dated system for delivery of services, namely, that patients show up in person to receive treatment from one provider who is frequently not in communication with their other healthcare providers (Levin, 2017). Other factors observed to impact the shortage include psychiatrists retiring more quickly than they are replaced by younger counterparts, few medical school graduates pursuing psychiatry (only about 4% select psychiatry residencies), and problems within a healthcare system that prioritizes patient volume over the quality of care provided (Merrit Hawkins, 2015).
Potential solutions to the shortage include expanding funding for graduate training and public service loan forgiveness to incentivize psychiatrists to establish practices in rural and other underserved areas (Levin, 2017). Additionally, as approximately 50 percent of psychiatry trainees are graduates of international schools, streamlining processes involved with visa applications and immigration may encourage more trainees to consider continuing their training in the US and ultimately establish practices here. Trainees in medicine should receive instruction in telepsychiatry and interdisciplinary collaboration. (Levin, 2017).
Interdisciplinary collaboration allows for extension of psychiatry services to areas where patients might not have regular access to a psychiatrist. For example, primary care providers may consult with a psychiatrist to receive advice on medication usage and lab tests specific to mental health treatment. Collaborative care has demonstrated effectiveness in over 80 randomized controlled trials (Stephens, 2019). This model of healthcare delivery also allows patients to receive healthcare for more minor mental health concerns from a provider with whom they have already established care, rather than seeking out a new provider.
As technology continues to expand, improving access to resources must remain a priority, particularly for underserved populations. These resources may include mobile apps for managing common mental health conditions and expanding options for personalized therapy through telehealth platforms. A universal, federally-based standard for licensing would also greatly improve access to care for patients in rural areas and underserved states, as patients could receive services from psychiatrists in any state. As the needs of the population changes, service delivery must also change to effectively meet new demands.
References
Levin, A. (2017, April 14). Report details national shortage of psychiatrists and possible solutions. Psychiatric News. https://psychnews.psychiatryonline.org/doi/full/10.1176/appi.pn.2017.4b24
Merrit Hawkins. (2015). Psychiatry: "The silent shortage." https://www.merritthawkins.com/uploadedFiles/mhawhitepaper_psychiatry.pdf?wpmobileexternal=true
New American Economy: Healthcare. (2017). The silent shortage: How immigration can help address the large and growing psychiatrist shortage in the United States. https://www.newamericaneconomy.org/wp-content/uploads/2017/10/NAE_PsychiatristShortage_V6-1.pdf
Satiani, A., Niedermier, J., Satiani, B., & Svendsen, D. P. (2018). The projected workforce of psychiatrists in the United States: A population analysis. Psychiatric Services, 69(6), 710–713. https://doi.org/10.1176/appi.ps.201700344
Stephens, S. (2019, June 27). The truth about the psychiatrist shortage. Health Careers. https://www.healthecareers.com/article/career/the-truth-about-the-psychiatrist-shortage
Back to blog list